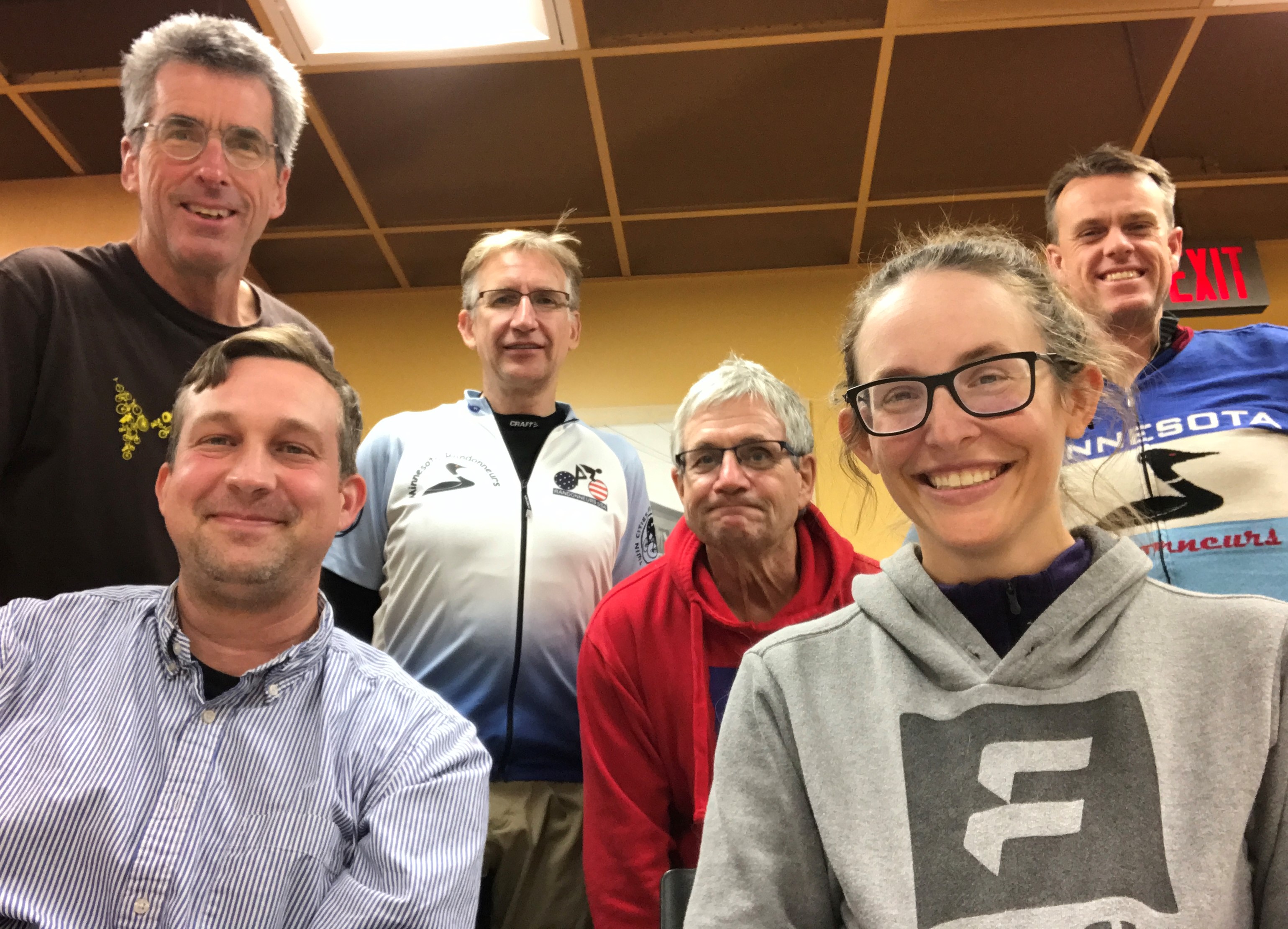 The 2019-2020 Minnesota Randonneurs Board of Directors
Keith Morical, Keith Larson, Norman Ehrentreich, Rob Welsh, Kate Ankofski, Jonas Nygard
Minnesota Randonneurs Board of Directors 2019-2020
It gives me great pleasure to announce the 2019-2020 Minnesota Randonneurs Board of Directors. This very experienced group of people has a wide variety of cycling backgrounds, management experience and, most importantly, a love of riding their bicycles. This group was recruited based on their cycling and personal backgrounds, randonneur experience and most of all, the desire to see Minnesota Randonneurs continue to grow in 2020 and for many years into the future.
Our first Board of Directors are:
Kate Ankofski
Norman Ehrentreich
Keith Larson
Keith Morical
Jonas Nygard
The Board has had their first meeting so the planning processes have begun. The results of this process will be coming soon and will make 2020 a great year for randonneuring in Minnesota.
Here are brief bios of our new board members.
Kate Ankofski is a senior copy editor at a content marketing agency in Hopkins, MN, and previously worked in book publishing as an acquisitions editor. An ambassador for the Fix Studio in Minneapolis, she races long-distance gravel and road, setting the women's record in the 2019 North Star Bicycle Race. Perhaps best known for DNF'ing in the 2017 Day Across Minnesota gravel ultra to rescue an abandoned kitten, she participated in this summer's Midwest Brevet Week, completing three consecutive 300ks.  Kate got her start with Minnesota Randonneurs on the winter Northern Pancake permanents, starting last fall.
Kate looks forward to contributing her content marketing skills -- writing, editing, social media and experience with Google Search Engine Optimization (SEO) -- for Minnesota Randonneurs, as well as promoting randonneuring among the Minnesota gravel and ultra community. 
Norman Ehrentreich has been a lifelong cyclist. After moving to Minnesota from Germany in 2003, he discovered randonneuring in 2008 and just completed PBP 2019. As the owner of the Northern Pancake 200k route (perfect for winter riding), he is the evil mastermind behind horrible ideas such as the MN R-12 (12 brevets of 200k or more in 12 consecutive months – in Minnesota) or last year's Winter Solstice Golden Pancake night ride on December 21st. Luckily, Norman can always count on fellow randonneurs to answer his horrible ride suggestions with a resounding "What time?"
Norman plans to work on increasing our offerings of permanents and ACP brevets in Minnesota. He earns his money for new bikes with bank stress testing in downtown Minneapolis, a perfect location for year round bike commuting.
Keith Larson first fell in love with the bicycle after a trip to the Netherlands, where he witnessed the true utilitarian possibilities of this simple machine. He brought that mentality with him back to his home in New York City where he began commuting regularly by bicycle. Over time he began riding more and more for not just commuting but recreation, eventually planning overnights, then multi-day trips, and eventually a two-month tour from Canada to Mexico. After re-locating to Minneapolis, demands of life and family made touring increasingly more difficult. Randonneuring offered a way to experience the profound adventure of a tour in a much shorter amount of time. He first started riding with Minnesota Randonneurs in 2015 and has been a committed Randonneur since. Keith has completed several SR series, the Coulee Challenge 1200k in 2018 and of course the creme de la creme of PBP in 2019. Keith believes that Randonneuring is truly a challenging, sublime, introspective and infinitely rewarding activity. 
Professionally, Keith is an artist, craftsman and arts professional. He has been a manager and administrator within the arts community for over a decade. He holds a BFA from the University of Minnesota and an MFA from Hunter College in New York City. He is very excited to serve on the Minnesota Randonneurs board of Directors and looks forward to promoting the great sport of Randonneuring.
Keith Morical is an entrepreneur that has grown companies that build software systems to improve human performance. He is interested in bike rider safety, biking for transportation, and supporting the continued growth of Minnesota Randonneurs' routes and participation.
Keith is a life-long commuter and tours to many parts of our beautiful world, meeting its wonderful people. He joined Minnesota Randonneurs in November 2016 and has completed a Super Randonneurs series each of the next two years. As an ultra-distance racer in 2019, Keith finished Paris-Brest-Paris, won the North Star Bike Race, and came in second in the Trans America Bike Race.
Jonas Nygard has been riding randonneur events in Minnesota and Wisconsin for 10 years. He has completed three PBP events along with several Super Randonneur series and multiple RUSA R12 series. His favorite riding includes loaded bike touring, all types of brevets, permanents, long gravel events and winter brevets. When not riding one of his many bicycles, Jonas works as a management consultant for 3M.