News Update July 30, 2020
Top News
- New Minnesota Randonneurs board member Rob Mosimann
- RUSA Permanents Program opening August 1
- Many RUSA Awards programs will be available, including R-12/P-12
- Brevets and Populaires continue to be closed through August due to the rise in CV-19 across the country
- The Mn Rando Strava Challenge report is delayed due to Garmin outage, but will be published soon
New Board Member
With Tom Ehlman moving to Colorado over the past few months, a board opening was created. After considerable discussion we invited Rob Mosimann to join the Minnesota Randonneurs board, effective officially at our next board meeting on August 6th. Rob brings a wealth of cycling experience and knowledge of the Minnesota cycling environment. He has also ridden the Northern Pancake 200k ride 15 times in the past 3 years. A big thank you to Tom for all his work in creating our Minnesota Randonneurs legal organization and leading many rides in the Rochester area as well as multiple 1000k and 1200k events.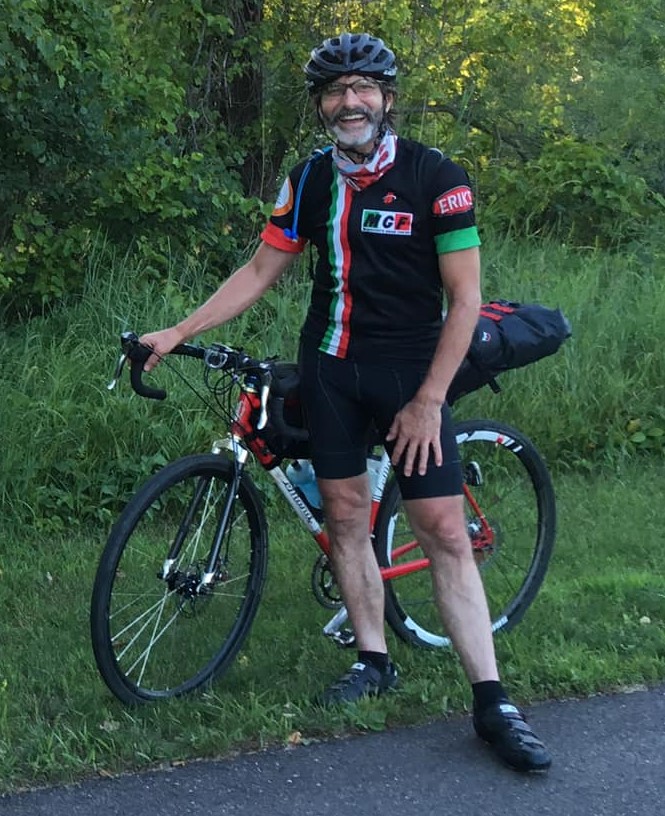 Permanents
Great News – Permanents will be opening August 1st.
Full details of the new Permanents program will be shared in the next couple of days along with the registration process for the program and for individual rides as well as submitting results. A one time fee of $10 will cover program registration for the balance of 2020; there is no per-ride fee.
There is much more flexibility with the new program in terms of where to start, what info you need to collect to gain credit and other details. You can check the RUSA website now for more details, with more to come soon.
At the present time, we have one permanent route approved in the Twin Cities area, the Dakota County 100k. Dan Diehn has three routes available in the Black River Falls area. We are in the process of submitting more of our old permanent routes to RUSA and will have a variety of them available very soon.
Awards
Awards will resume effective August 1 as follows:
· Distance awards will resume including Khound, Mondial and Galaxy
· R-12/P-12 will resume from where the member left off, continuing for as many months as it takes to reach 12. No doubling up will be required to make up missing months in December through March. Members have the option to delay their restart until RBA-scheduled events resume or some earlier date, TBD. Detailed mechanics are being sorted out and website updates will be required (e.g. R-12 string started in Nov, left off in Feb (4 months), restart in Aug, 8 more months to go).
· American Explorer - we are advising against accumulating new States/Territories at this time.
· Coast to Coast, RUSA Cup, Scout, American Randonneur Challenge - all depend on RBA-scheduled events; any required adjustments to these, if any, will be dealt with later.
· Ultras - unaffected.
There is nothing normal about the pandemic situation nor are we indicating some return to normal, rather we are acknowledging that our members are riding their bikes right now. Opening Permanents allows them to do that within the RUSA framework. We do not want to provide any incentive for members to leave either their riding comfort zone or their pandemic bubble, which is why they have some flexibility in restarting R-12 & P-12.
Dave Thompson, RUSA President
Minnesota Randonneurs Board Strava Club Challenge Week 11
Due to Garmin being offline for several days, results posting has been delayed. I have started on the compilation of last week but some results are still trickling in so hang on a little longer.
A few notable highlights are in order though:
- Kate Ankofski, John Jarvis and Rob Mosimann did the Duluth for Breakfast ride, initiated by Norman Ehrentreich and Jonas Nygard a few weeks ago. 330+ miles – congratulations.
- Hall Sanders is not on Strava but completed the Apple Valley 600k route last weekend solo to complete his virtual Super Randonneur Series. Congratulations, Hall!
- Andy Williams completed a 400k (250 mile) last Wednesday, starting in Eau Claire, finishing less than 20 hours later, with a 16 mph avg on the bike speed – good work!