Jerry Hofmann 1947-2020, Minnesota Randonneur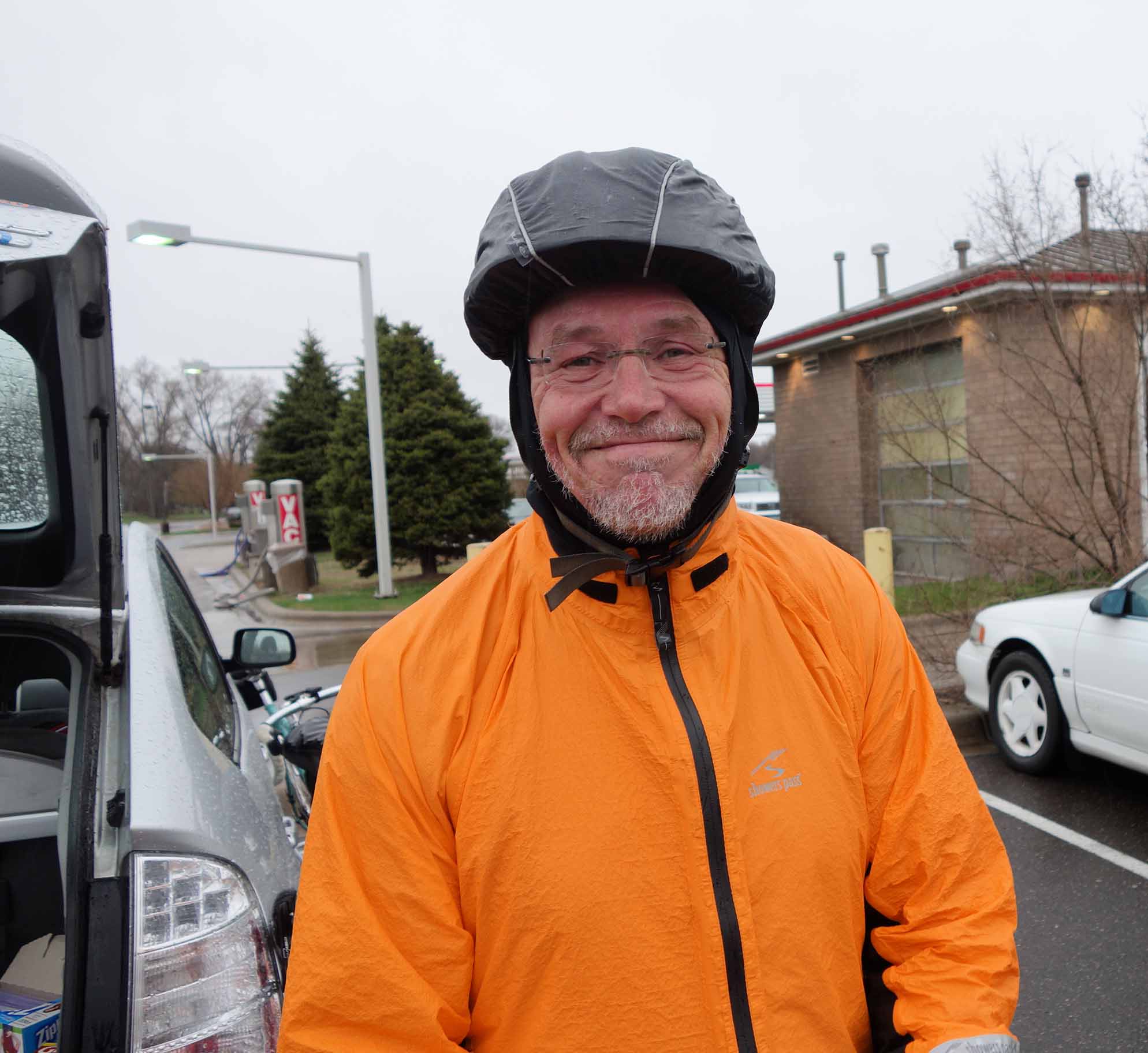 Jerry was an iconic member of Minnesota Randonneurs for several years, riding with us on many brevets. He loved to ride his bicycles. He liked to be the first rider up a hill, but he enjoyed riding with the group. He loved Laurel and his many grandkids. He knew the Cities bike roads really well and could find the nearest and best brew pub quickly, no matter what part of town we were in.
Here are some stories and commentary from a few of his many rando friends. Thanks for riding with us, Jerry.
Steve Redelsperger
Jerry was great to ride with if you could hold his wheel! He was a monster on the hills and always strong. I was up in Akeley MN on afternoon ride and here comes Jerry passing me on the trail. I was staying at a cabin and riding 30 or so miles and Jerry just rode up from the Twin Cities. I could not catch him, he was just a motor! We still miss you Jerry!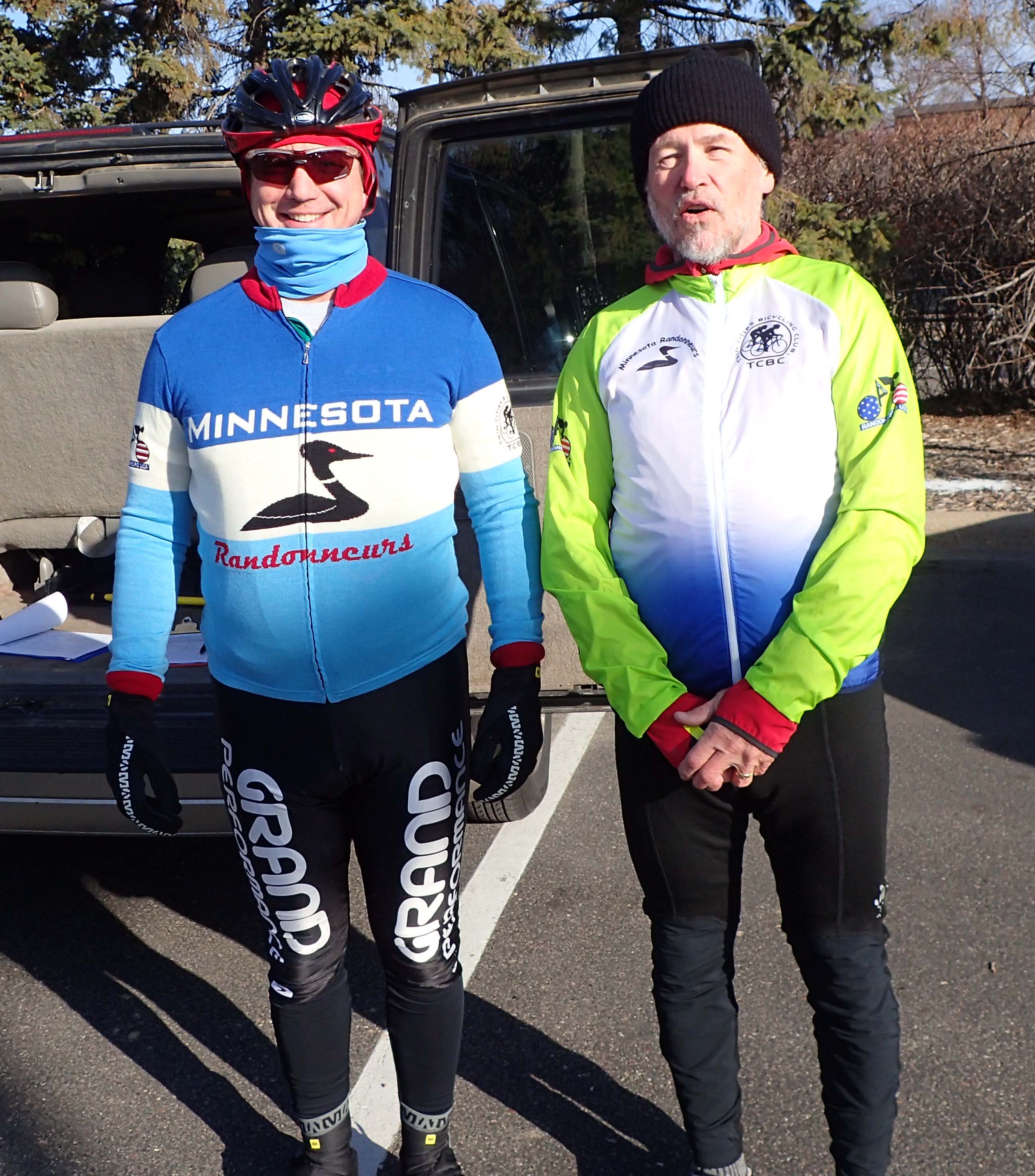 Bill Hague
Very sad to learn of Jerry's passing. You have known him for a long time, but I was just getting to know him, after being acquainted for several years, and seeing him at a number of events. Last Fall we met by chance, while riding separately, at Mid-town Cvclery, and had an extended conversation. We spoke of meeting again, at The Angry Catfish, one of his regular stops in the near future, but it didn't happen (for which I am sorry). From our conversation, it was clear that he was no longer riding with his old vigor, due to his heart issues, but still pursuing his love of biking. He spoke of how slowly he was riding—probably still much faster than me. He also spoke with great fondness of his relationship with his grandchildren, and his frequent contact with them. What a lovely guy! We will miss him a lot—wish that I had gotten to know him better.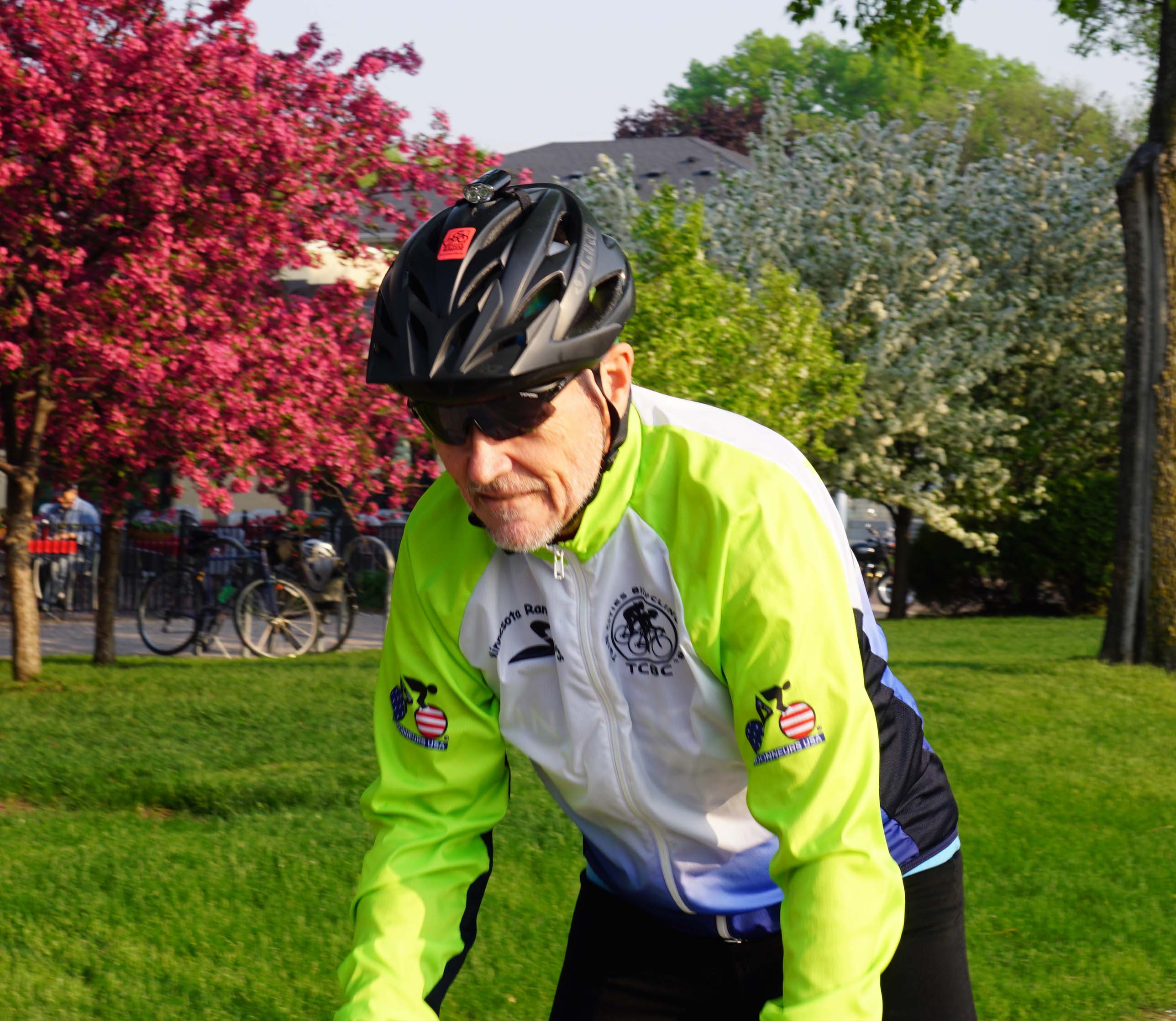 Jonas Nygard
What a bummer! I loved riding with Jerry. He needed me to navigate and I loved drafting him so was an all around win win win. He also had awesome stories and was a fountain of information of all kinds, from the arts, to history, to biking and everything in between. Super fun guy to ride with, if you could keep up with him of course.
Some examples include
- History and Geography lessons about the suburbs of Minnesota as he had ridden here his whole life he had seen the changes and had great stories about the area.
- Lessons of the intricate details of the Freemasons and the Shriners. His son-in-law is a full time Freemason/Shriner horse man and recruiter, so Jerry had a lot of inside scoops about that secretive organization that I found fascinating.
- Jerry used to race locally back in the day and one circuit race some new kid on the block named Greg, who was 16 at the time came out and spanked all the old dogs cat 1 guys that were in their 20s and lapped them twice in one single race;-) Jerry was racing it and he said that Greg LeMond was a natural and absolutely amazing to see and race against. What an experience.
Jerry used to be an IT contractor running his own company for many years, and he was overweight and smoked 2 or 3 packs of cigs a day, not sure which kinds, but possibly Marlboro Reds I think he might have mentioned. Then he quit after 20 years of that, got back on his bike and then we got to know him as the Jerry we know and love to ride with.
I rode with Jerry for 12 years or so and met him first at the Tears Gears Fears ride I think. He rode a single speed and used to take of like a rocket and I never saw him again. They I ran into him at various other TCBC rides, and then we both became randonneurs and I got to ride even more with him, and the more I did, the more I enjoyed his company and riding with him. Sometimes, I set out hard so he could chase me down, and sometimes he did the same and I chased him down, then then we rode together at 20mph and chatted the entire time. Super fun!
Anyhow, cheers to our deer departed friend Jerry Hofmann! I sure miss him a lot, and miss riding with him, chatting with him, and of course having beers after the rides!
RIP our dear rando friend Jerry Hofmann!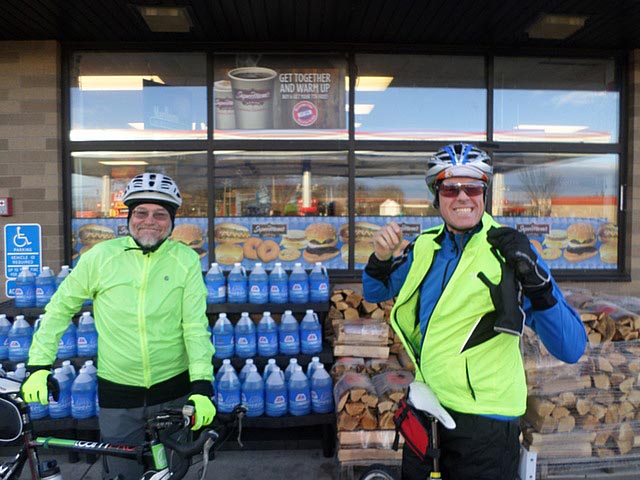 Part II
I sure miss riding along with Jerry chatting about everything from opera (he used to be an extra at the MN Opera I learned), history, bike racing, masons and potentates, biking of all kinds, and coming up with all kinds of hare brained schemes. The best was when Jerry and I thought it a good idea to ride down to Rochester for the start of the Night 300k brevet. We had a nice strong headwind all the way down there, ate a ton of pasta at the joint over there and then started the 300k. Jerry over ate and decided to call it quits about 50 miles in so he rode back to the start, bought a lawn chair at Wal Mart and slept out there until the rest of us got back the next morning. Neither of us had any interest in riding back however so we managed to hitch rides back home. Over 500k that day I recall and we managed to get lost in Cannon Falls on way down. I remember suggesting to Jerry that we perhaps slow down a bit and don't go too hard into the wind to the star, and Jerry remembered for about 30 seconds, then back to full speed;-) Super fun guy and awesome riding partner and beer buddy! RIP Jerry!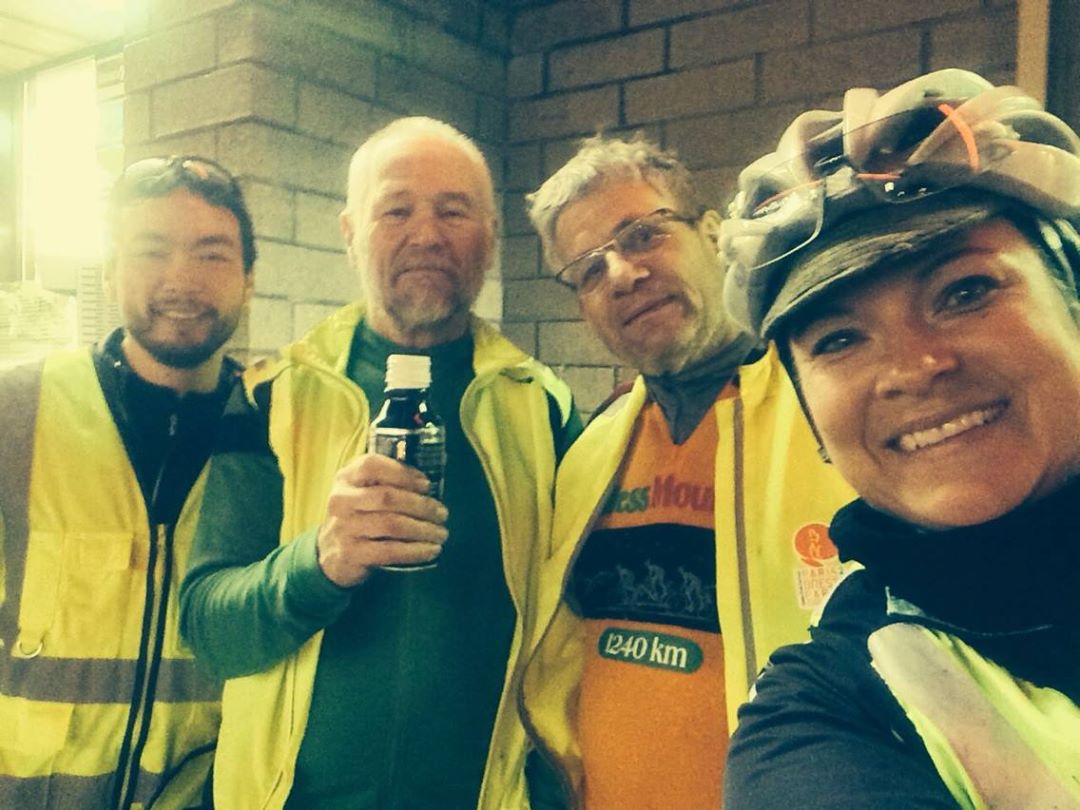 Hall Sanders
Jerry was one of my favorite randonneurs to ride with. You generally had a good idea how a ride was going to start but you had no idea how it was going to end. Jerry rode like he was a light switch; totally on or totally off. Trying to keep up with Jerry at times seemed like a super human task. Every hill was charged, every head wind blasted thru, every flat was a time trial. I would try to hang on and hope his internal switch would turn to off which would usually leave him lying in ditch up ahead.
Jerry's feats were legendary. One time Jerry and I were car pooling for a ride in Black River Falls that started at 5:00 a.m. We were going to leave my house in N.E. Mpls. at 2:30 a.m. to make it. Jerry, a firm believer in riding to the ride whenever possible or sometimes impossible, rode his bike from Edina to my house through downtown bar traffic to get to my house. I should have known. To top it off his left eye was almost swollen shut from a bee sting he got on an earlier ride that day. This did not stop him from finishing a hilly 300 km.
On another hilly 400km. in S.E. Mn. I was chasing Jerry around on a brutal hot and humid day. We had a big climb out tiny Rolling Stone on our way to scenic Stockton Mn. on a road that was so hilly it had actual switch backs. I somehow had a lead over Jerry and was hoping his internal switch would flip to off so I could mercifully slow down. I wobbled to the top and looked around; no Jerry. Halfway back down the hill I found him lying on the shoulder. His switch firmly off.
Without Jerry a lot of the rides aren't the same. He was a good guy to talk with about music and a lot of other varied subjects. A good family man and grandpa. Unfortunately the ranks are thinning and a randonneur like Jerry will be sorely missed.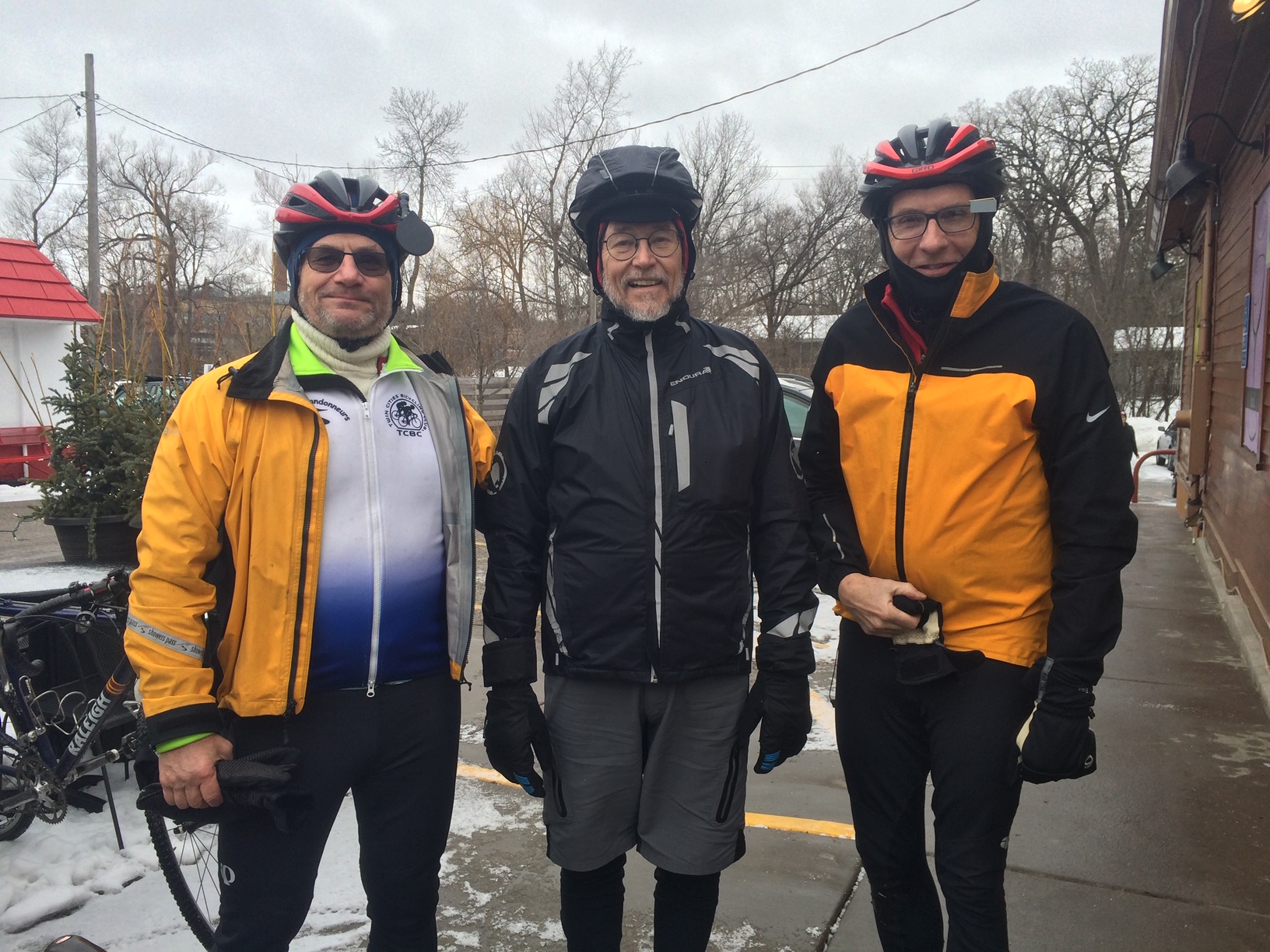 Rob Welsh
Jerry and I rode together quite a bit. Early on, we didn't know each other very well. I flatted about 15 miles out of Plainview on a brevet and was just getting my spare out when Jerry rolled up and without a word started helping with the change. Once we were done, we continued on together for the rest of the ride. I think this got us started with riding together.
Jerry and I both rode the first long distance Rando/RAAM ride in the US in 1980, the 540 mile Bicycle Across Missouri (BAM). Jerry lived in Minnesota, I was still in Ohio (moved to Minnesota in 1981). Both of us finished, within an hour of each other (Jerry was a little faster, even then!). We didn't meet during the ride and didn't connect again until around 2012, on a brevet. When we discovered our mutual connection it helped us both understand each other a little better.
Jerry went back and rode BAM at least one more time, but the next real long distance ride he did was in 2014 when completed his longest ride ever: The Coulee Encounter 1200k, put together by Dan Diehn. By the last day we were all exhausted and Jerry wobbled into the grass along the Cannon Valley Trail with 40 miles to go. I thought I was being kind when I suggested he should maybe take a short nap in Cannon Falls before finishing the ride. Jerry didn't take this too well and he bore down to finish the last leg with no problems but didn't want to talk to me. It took him a couple of months to forgive me for my tactless comment, but we moved on.
Jerry could talk about just about any topic related to bicycling, be it racing, bike parts or his collection of bicycles. He made it sound like he was complaining about having to pick up and watch his grandkids, but I think he really liked being Papa and was a great grandpa.
Hall Sanders and I went out with Jerry a couple of times over the past 2-3 years. Both times it was really cold but Jerry had all the right equipment and clothing to make it easy. We didn't go very far, but would stop at a pub for lunch and a beer and lots of talk about bikes and grandkids. I wish we had done a couple more of these.